Health Insurance Agents: Lack of Health Care Keeps More Workers from Going Solo

(ARA) - You?ve thought about leaving your job and working for yourself, but the security of your company?s health coverage is holding you back. You're not alone.
More than half of U.S. workers would consider exiting their current jobs and flying solo as free agents if they were guaranteed the same health benefits as found in traditional employment, according to a recent study.
The U.S. Department of Labor defines free agents as skill-driven people, typically employed as temporary/contract workers, freelancers, independent professionals or consultants.
Today, they represent 22 percent of the U.S. workforce, or more than 30 million people, according to the Kelly Services Workforce Study. Free agents may represent the largest single cluster of workers in the American economy.
The study finds that 51 percent of U.S. workers in traditional employment relationships would consider free agency if they could secure comparable health benefits.
?Many people now want to fit their work into their lifestyle, rather than fitting their lifestyle into their work,? says Carl Camden, president of staffing provider Kelly Services. ?In line with this trend, more workers are becoming receptive to contract, temporary or consulting employment situations, and the demand for them is there since more than 90 percent of U.S. companies use some form of free agent help.?
Impeding this style of work, Camden says, are U.S. labor laws and health care access that remain structured around traditional employment.
A significantly lower number of free agents -- 77 percent -- have health insurance, which they commonly access through a spouse or other means, compared to the 85 percent of all workers who have coverage, according to the Kelly study.
Insurance companies are reluctant to provide more traditional, comprehensive benefit packages to individuals, versus those in group plans, due to perceived higher financial risk. This largely makes attaining health coverage cost-prohibitive for individual free agents.
?Our country needs significant change in legislation and regulation in the areas of healthcare, occupational safety and retirement that acknowledges the free agent workforce,? says Camden. ?With respect to health care, we should move toward an employment-based approach rather than our current employer-based system.?
Staffing companies remain excellent avenues into a growing variety of employment situations. Here are some tips on finding one:
Experience and stability -- Look for a well-established firm that serves a breadth of skill areas (including yours, of course).
Professional -- The staffing office should be clean and organized, with knowledgeable and helpful staff. An office busy serving job candidates and businesses is a good sign.
Quality assignments -- Inquire about the staffing company?s roster of clients. Look for opportunities and venues where you can best practice and develop your skills.
Flexibility -- This is what personal career management is all about. Your staffing firm should be able to accommodate your preferences around when, where and how you will work.
Training -- Ask whether the staffing company offers free software training. Some have online learning centers for their employees.
Recognition -- Does the staffing firm formally reward and recognize its top performers?
Relationship -- Wherever your assignments may take you, look for a staffing company that communicates and stays connected with you and your goals.
Courtesy of ARA Content .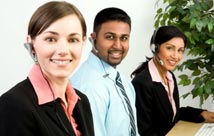 | | | |
| --- | --- | --- |
| | | Respond Insurance Directory lists the top Insurance Agents in your area, organized by specialty and office location. |